Welcome to my little bit of Blogland today, I hope your all ok and looking forward to the new challenge we have running over at
FOREVER FRIENDS CHALLENGE BLOG
. This times challenge we want you to use your favourite embellishements - how good is that! But if your like me you have a few lol!
Here's what you could win by joining in the fun
The Sponsor for the Forever Friends Favourite Winner is
Whoopsi Daisy
4 sheets of digis of the winner's choice.
----------
The Sponsor for the Randomly Selected Winner is
Meljens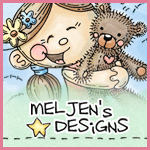 The prize for the winner will be - 4 digis of the winners choice!
So what are you waiting for?
Here's my cards I have made - hopefully to inspire you a little too :0)
Here's my card using the sweet "Kitty Love" from Meljen's Designs, the cats are coloured in with promarkers and then layered onto a scrap bit of red card. The patterned paper is gorgeous chinese paper that I have had for years but never cut up (ok I know we all do it -buy papers then not use them as they are tooooo gorgeous to cut into!!!!) I have added some flowers and buttons to make a paw print on the inside of the card :0)
Now you don't have to use Forever Friends images on your cards to enter into our challenge but if you do we would love to see them :0) Here's a card I have made using my Hougie Board and a Forever Friends Image from my Do Crafts Forever Friends - Retro Everyday CD. And look at those buttons!!!!!
Come on why don't you join in the fun? And why not pop over to the
Forever Friends Challenge Blog
and see what the rest of the very talented DT have made :0)
Love Clairebears x